5348 Year Erica becomes a Narth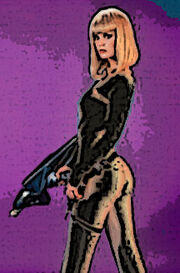 Erica, aka Eric Olafson is one of the most famous heroes of the 52
nd
and 53
rd
Century. He grew up on
Nilfeheim
, joined the United Stars Navy. He eventually became a Star Ship captain. Eric changed his sex after his first Command and became known as Erica Olafson
Eric shared the Huhgavh with a Narth in order to save the Narths life. This event changed his life forever and when he finally retired from the Union Fleet and after living several decades on Nilfeheim he finally moved to Narth Prime and remained there until his corporal existence ended in 5348.

It is believed that Erica has not died but that she is the first corporal being ever to become a Narth and join this little understood society.

(See GC: 5,6,7,8,9,10)
Ad blocker interference detected!
Wikia is a free-to-use site that makes money from advertising. We have a modified experience for viewers using ad blockers

Wikia is not accessible if you've made further modifications. Remove the custom ad blocker rule(s) and the page will load as expected.