A20 Havoc Ship to ship torpedoes

For over 2000 years Enroe Industries provides the Union fleet with one of its most potent weapons, the Loki Torpedo. It has of course been steadily upgraded.

Schwartz Industries – Subdivision Capital Armaments Inc. has tried for almost as long to offer the Union Navy an alternative and gaining this lucrative contract, unsuccessful so far. A situation not easily accepted at SII board meetings.

The latest SII development and answer to the Loki torpedo is the A20 HAVOC ship to ship missile, reclassified as a torpedo, (mostly for marketing purposes)

The A20 HAVOC comes with a variety of war heads , that can be reconfigured automatically by the Havoc Launch system.
| | | | |
| --- | --- | --- | --- |
| VERSION | Warhead Type | Purpose | Ability |
| A20 HAVOC Standard | Anti Matter | Anti Ship | Energy explosion |
| A20 HAVOC Antishield | Dual Graviton Bombs | Anti Shield | Disrupts shields |
| A20 HAVOC ERRADICATOR | Genetic Spores | Anti Bio | Destroys bio matter |
| A20 HAVOC AntiFighter | 20 Independent | Anti Fighter | Highly intelligent |
| A20 HAVOC Deep P | Fusion Fire | Anti Planet | Deep Crust penetration |
| A20 HAVOC DISRUPTOR | EMP | Anti Tech | Jamming |
| A20 HAVOC Blue | None | Training | none |

SPECIFICATIONS
Length: 12 meters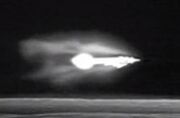 Weight: 1500 kg for the body of the missle, 400-800 kg for the warhead ( varies by Version)

Range: 1. 5 Ly

Acceleration: 998 km/sec2
Equipment: ParaDim Shield, Active Cloak, Intelligent Robotic Brain, GalNet Mission changer, Multi Sensor
Ad blocker interference detected!
Wikia is a free-to-use site that makes money from advertising. We have a modified experience for viewers using ad blockers

Wikia is not accessible if you've made further modifications. Remove the custom ad blocker rule(s) and the page will load as expected.