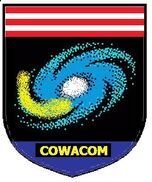 Coreward Command (COWACOM) is a theater-level Unified Combatant Command unit of the USotG Fleet Command structure, established in 2800 under the operational control of FLEET COMMAND. It was originally conceived of as the Rapid Deployment Joint Task Force (RDJTF) against the Y'All threat, the Nul and the Shiss.
Its area of responsibility includes the Klack Empire, Archa, Shaill Space, NAS (new acquired space) and the Union-Klack Corridor.
COWACOM has been the main Union presence in many military operations in the Coreward Sector including the war against the Siucra (NAS).
Forces from COWACOM currently are deployed in the NAS area, the Nul / Union border area and in the K-U Corridor. Further mission deployments include border security at the Shiss Border area, at the Free Space border area, Patrol and security tasks in Klack, Archa and Shaill space.
The current commander is Admiral Bill Strother, United Stars Navy, who took command from acting commander Lieutenant General Asth'tTk, United Stars Army on January 4998
COWACOM main headquarters was located at Fort Ktysht'th on Planet T'Thkth in the Y'thsat System (Klack Space), although a forward headquarters was established in 4200 at Fleet Base Roth'thk in the K-U Corridor which transitioned to a new forward headquarters at Fleet Base Algeri on Planet Alegri II in the Alegri System in 5017 to serve Union strategic interests in this Union / Nul border region. COWACOM maintains a regional HQ at Planet Balmung
Ad blocker interference detected!
Wikia is a free-to-use site that makes money from advertising. We have a modified experience for viewers using ad blockers

Wikia is not accessible if you've made further modifications. Remove the custom ad blocker rule(s) and the page will load as expected.