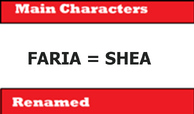 Faria
In the original "first" posted story of GC . Eric's Love Interest was called Faria which meant "Lost one" in language spoken by the Skaakh (Squack). Mother Superior called her Faria while she grew up in the temple which meant "Bright" in the old Saran language, still spoken by the Sojonit and the Mother Superior.
During the last edit, I omitted the a large part of Shea's story. Including this part.
For the next Edit I am planing to write a seperate Shea book altogether and omit the " Interludes"
Vanessa Ravencroft
Ad blocker interference detected!
Wikia is a free-to-use site that makes money from advertising. We have a modified experience for viewers using ad blockers

Wikia is not accessible if you've made further modifications. Remove the custom ad blocker rule(s) and the page will load as expected.