There is a feature at the Fiction Press site, that allows the creation of a message board communit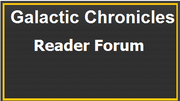 y or a forum in other words.
Since the Galactic Chronicles Universe is slowly but steadily growing and there are now over a 1000 hits a week, I decided to create a forum where you the readers can freely discuss, complain and comment without the restrictions of the regular comment section.
There you can create and answer polls, critique and tell me about my errors and mistakes and all the thenings you want to discuss or talk about.
Here is the link:
http://www.fictionpress.com/myforums/Vanessa_Ravencroft/539273/
Ad blocker interference detected!
Wikia is a free-to-use site that makes money from advertising. We have a modified experience for viewers using ad blockers

Wikia is not accessible if you've made further modifications. Remove the custom ad blocker rule(s) and the page will load as expected.