Glagadrinn Desert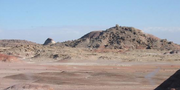 Name of an ocean sized desert on Planet Alvor's Cove. The desert once was the floor of a planet spanning ocean before the flaring sun cooked of all surface water. The Desert is vast and full of secrets and dangers. A local society known as the Desert Scavengers prowl across that desert to collect a wide variety of natural goods and materials; among the items they collect are:
Water from Sub Terran Water sources

Tutu Cactus buds

Tutu Cactus flowers

Tutu Cactus roots

Mineral oil from open petroleum pits

Dawal Lizards

Gold and Silver ore

Snakes
Sand Bugs
Copper Nodules
Minerals
Salt
At first the Glagadrinn looks empty and lifeless but local life forms have adapted and the sand and dust fields are full of life.

Rumors exist that there is a Celtest (Seenian) ship buried in the sands.

The desert is known for strong storms and tornadoes.
Ad blocker interference detected!
Wikia is a free-to-use site that makes money from advertising. We have a modified experience for viewers using ad blockers

Wikia is not accessible if you've made further modifications. Remove the custom ad blocker rule(s) and the page will load as expected.