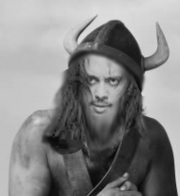 Harkun Olafson
Union Citizen, Native to Planet Nilfeheim, Race Affiliation Human Terran (Norse)
-----------------------------------
Harkun was the half-brother of Isegrim Olafson and this fact was kept secret until his death. His true name and heritage was kept secret as his mother was a Low men's wench. Harkun became the man servant of his brother and was simply known as Harkun, the Man servant. He was also the Major Domus and boss over all servants of the House Olafson. He had strange and sick sexual appetites and raped many girls and women in the Olafson household. To the servants he was known as the Gray Demon. Harkun sired Elena as he raped Gudrun the Cook. Harkun was killed by his own daughter.
Ad blocker interference detected!
Wikia is a free-to-use site that makes money from advertising. We have a modified experience for viewers using ad blockers

Wikia is not accessible if you've made further modifications. Remove the custom ad blocker rule(s) and the page will load as expected.