The central place of the High House or Hall House of the Burg.
the
hall house
in which the central room is the
great hall
. Off one end is the solar while a partition divides the other end of the hall off as the
screens passage
. Across the passage lie the
pantry
and
buttery
with between them, a passage through to the
kitchen
. The function of the last had been removed from the hall for the convenience of both cooks and inhabitants but also because roasting fires were a serious fire risk. Kitchens were by this time, built of more fireproof materials in a separate building.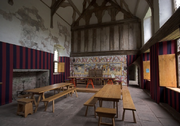 Ad blocker interference detected!
Wikia is a free-to-use site that makes money from advertising. We have a modified experience for viewers using ad blockers

Wikia is not accessible if you've made further modifications. Remove the custom ad blocker rule(s) and the page will load as expected.