Iron Star
Edit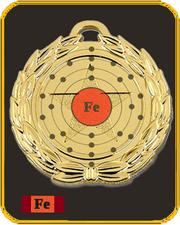 Lowest of the "Upper Set " of Union Fleet military decorations. The Iron Star was introduced as a medal to have a step up of the Excellent Service Medal that could be awared to a service member for basially "doing his or her job" very good. The Iron star is handed out for actual combat or combat related issues where the reciepient has shown outstanding qualities and throug actions "saved the Day". It is often called the Rusty One as the conditions to recieve it are somewhat vague and general and can easily be interpreted to fit many situations.
Still it is an "Upper" or Combat releated medal and can not given for exercises or non combat related issues.
Ad blocker interference detected!
Wikia is a free-to-use site that makes money from advertising. We have a modified experience for viewers using ad blockers

Wikia is not accessible if you've made further modifications. Remove the custom ad blocker rule(s) and the page will load as expected.