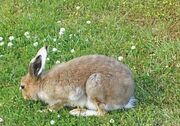 this is how
Bopho
and his tribe calls
rabbits
. Before his tribe adapts the throwing sticks (spears) from the
Naked Tribe
, they find them almost impossible to catch. However with the
throwing sticks
and improved skills using and making them this source of meat becomes more readily available and these food sources that are available throughout the year are the reason for Bopho to decide to stay and change their nomadic lifestyle.
Ad blocker interference detected!
Wikia is a free-to-use site that makes money from advertising. We have a modified experience for viewers using ad blockers

Wikia is not accessible if you've made further modifications. Remove the custom ad blocker rule(s) and the page will load as expected.