Midril is a common woman ( Daughter of a Freeman ) serving the Olafson Clan as head chef. She is responsible for supplies, cooking and baking. As well as making soap, spirits, beer and mead . She has a staff of 15-20 women and a few Low men.
Midril is renowned for her cooking skills and especially for her Tyranno Fin Stew .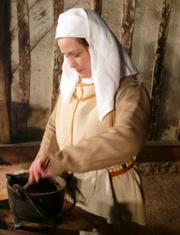 Ad blocker interference detected!
Wikia is a free-to-use site that makes money from advertising. We have a modified experience for viewers using ad blockers

Wikia is not accessible if you've made further modifications. Remove the custom ad blocker rule(s) and the page will load as expected.