A sauna is a small room or house designed as a place to experience dry or wet heat sessions, or an establishment with one or more of these and auxiliary facilities.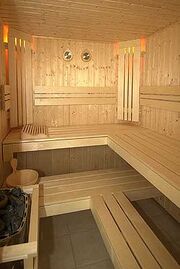 A sauna session can be a social affair in which the participants disrobe and sit or recline in temperatures typically between 70 °C (158 °F) and 100 °C (212 °F). This induces relaxation and promotes sweating.
Saunas can be divided into two basic styles: conventional saunas that warm the air or infrared saunas that warm objects. Infrared saunas may use various materials in their heating area such as charcoal, active carbon fibers, and other materials.
Saunas are still very popular on Nilfeheim , New Sweden and several other Terran Colony worlds. On Nifleheim, Saunas are part of virtually every household. their use are strictly regulated in the Book of Traditions. Not even married couples are allowed to use a Sauna together.
Ad blocker interference detected!
Wikia is a free-to-use site that makes money from advertising. We have a modified experience for viewers using ad blockers

Wikia is not accessible if you've made further modifications. Remove the custom ad blocker rule(s) and the page will load as expected.