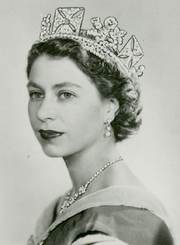 Princess Elizabeth Becomes Queen at Age 25 (1952):
After suffering from lung cancer for several years, King George VI died in his sleep on February 6, 1952 at age 56. Upon his death, his oldest daughter, Princess Elizabeth, became queen. Elizabeth was 25 years old.
Princess Elizabeth and her husband, Prince Philip, were out of the country when King George died. The couple had been visiting Kenya as part of the beginning of a planned five-month tour of Australia and New Zealand when they received the news of King George's death. With this very sad news, the couple immediately made plans to return to Great Britain.
While Elizabeth was still flying home, England's Accession Council met to officially determine who was the heir to the throne. By 7 p.m. it was announced that the new monarch would be Queen Elizabeth II.
When Elizabeth arrived in London and was met at the airport by Prime Minister Winston Churchill.
After laying in state at Westminster Hall, King George was buried on February 15, 1952.
Over a year later, on June 2, 1953, Queen Elizabeth's coronation was held at Westminster Abbey. It was the first televised coronation in
Ad blocker interference detected!
Wikia is a free-to-use site that makes money from advertising. We have a modified experience for viewers using ad blockers

Wikia is not accessible if you've made further modifications. Remove the custom ad blocker rule(s) and the page will load as expected.