Rex Perkins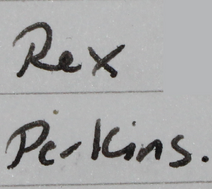 Born 1985 – Richmond New York.
Industrialist and CEO of Perkins Industries.
Grandfather of Rex Schwartz
Rex is 210 cm tall and very athletic. He is married to Linda Perkins (Linda Dewinters). Perkins Industries eventually evolves into Schwartz Intergalactic.
( Galactic Chronicles Prelude Book 2)
Ad blocker interference detected!
Wikia is a free-to-use site that makes money from advertising. We have a modified experience for viewers using ad blockers

Wikia is not accessible if you've made further modifications. Remove the custom ad blocker rule(s) and the page will load as expected.