Part of
Shea
's costume on
Brhama Port
. It is also known as corset or bustier. In Shea's case it was made of white leather.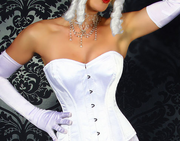 A bodice  historically, is an article of clothing for women, covering the body from the neck to the waist. In modern usage it typically refers to a specific type of upper garment common in Europe during the 16th to the 18th century, or to the upper portion of a modern dress to distinguish it from the skirt and sleeves. The term comes from pair of bodies (because the garment was originally made in two pieces that fastened together, frequently by lacing).
Erica Olafson also choses this kind of garment on several occations.
Ad blocker interference detected!
Wikia is a free-to-use site that makes money from advertising. We have a modified experience for viewers using ad blockers

Wikia is not accessible if you've made further modifications. Remove the custom ad blocker rule(s) and the page will load as expected.