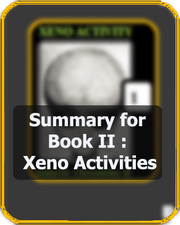 Book II belongs to the Earth Cycle of the Galactic Chronicles series and is the last book before Earth ascents and becomes United Earth (and later a member of the United Stars of the Galaxies).
In part One we follow the adventures of Sid Lemmon a handicapped former Navy SeAL who changed his career and life becoming a biologist and an expert in Lichen. His expertise and his knowledge of Antarctica are noticed and he is invited to take part of an expedition to the southern pole.
It is the start of a race across the globe to prevent a mysterious secret society from erasing any evidence of their existence and to gain control over a cache of alien technology.
In Part Two Kate Johnson an FBI agents gets recruited by a secret government agency, she and the team hunt a killer that seems to have supernatural powers. Both parts ulminate and conclude in Part III with the landing of the Saran in Washington DC.
We are introduced to Peter Baker, Richard Stahl, Mc Elligott, Rex Schwartz, Cherubim, Mr. Forn and other major characters that will have reoccurring parts in other volumes of the Galactic Chronicles series.
Ad blocker interference detected!
Wikia is a free-to-use site that makes money from advertising. We have a modified experience for viewers using ad blockers

Wikia is not accessible if you've made further modifications. Remove the custom ad blocker rule(s) and the page will load as expected.