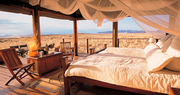 Tent Bungalows
Since most tourism and pilgrim business on Planet Netlor is limited to two seasons, most Hotels reduce or increase their guest accomodations with tent structures. The use of temporary structures is a Netlor tradition and even though the steady flow of visitors would warrant the construction of more permanent buildings, the tents are maintained also for "Tourist"attraction reasons.
Tent Hotels for every budget are available. From very cheap real tents (canvas fabrics, stakes real ground) to Super Lux "Glamping" (Glamourous Camping) with extensive bathing facilities, auto dressers and low grav beds.
Some of the temporary tent structures exist for many years.
Ad blocker interference detected!
Wikia is a free-to-use site that makes money from advertising. We have a modified experience for viewers using ad blockers

Wikia is not accessible if you've made further modifications. Remove the custom ad blocker rule(s) and the page will load as expected.