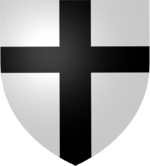 A religious order of Pre Astro Times Earth. It was revived by a group of Germanic Settlers to express their culture and celebrate their heritage.
Teutonic Knights
Coat of arms of the Teutonic Order.

Active

c. 1190–Present


Allegiance

Papacy, Holy Roman Emperor


Type

Catholic religious order
(1192–1929 as military order)


Headquarters

Acre (1192–1291)
Venice (1291–1309)
Marienburg (1309–1466)
Königsberg (1466–1525)
Mergentheim (1525–1809)
Vienna (1809–2220)
Planet Eisenadler (2220-present)


Nickname

Teutonic Knights, German Order

Ad blocker interference detected!
Wikia is a free-to-use site that makes money from advertising. We have a modified experience for viewers using ad blockers

Wikia is not accessible if you've made further modifications. Remove the custom ad blocker rule(s) and the page will load as expected.