The Settlers on
Nilfeheim
learned to make many uses out of the various sea-weed varieties that exist on that world. The most commonly used and commercially harvested Weed is Thickgrass-Seaweed. It is pressed into tight briquettes and used as fire fuel by the traditional families. The buds are rich in starch and are made into a Nilfeheim unique flower starch that is uses for baking. A fragnant oil can be pressed out of the float seeds and there are several alcoholic beverages made of it.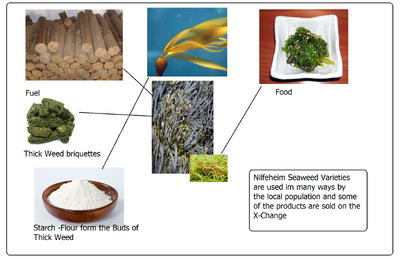 Ad blocker interference detected!
Wikia is a free-to-use site that makes money from advertising. We have a modified experience for viewers using ad blockers

Wikia is not accessible if you've made further modifications. Remove the custom ad blocker rule(s) and the page will load as expected.