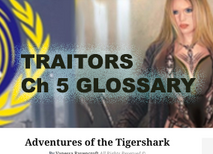 Traitors, Clossary
entity of Darkness
Erica
Erica is the Dark One
Eternal Warrior
Fantlemo Brthail
first condition of reality
fist sized, egg shaped device
genetic manipulations the settlers of Nilfeheim
Gharrhtur Maceuyt
Golden friend
grafting tissue
Grtonner
Grtonner
Grtonner Icylemh
Guardians of Light
Guild Master
Har-Hi
Har-Hi grinned relieved. "I knew she would not just stop at one."
I hate you for what you make me think
in my mouth.
incarnation of Darkness
ISAH pods
Ithe
Ithe have requested Union help
Itheamh
Karthania
Karthanian
Karthanian boneface
Karthanian spacedock owner
Karthanian trader
Karthanian's outfit
Karthanians would not tolerate
Loki torpedoes
Lord Lumis
Lt. Hi
Lt. Three-Four
Lt.Schwartz
Mel
Mel, the human boy
mighty Dai
my other sense
Nanites
Narth
Narth Supreme
Narth terms
Nilfeheim
Omnipotent
Paralysators
PDD
pirate cronies
planet side
Pree gate
prevent his incarnation.
psionic abilities
punished for her deed
radiation damage
Richter base
right hook
science corps
sentient form
serious burns
She does not leave my mind, she has powers
shoulder tackle
slave collar control
slave collars
Smelter Moons
Sobody
Spaceship
splashed over my face and arms.
Star born being
Star Demon
stepping into view.
Tech Stop
Thauran outfit
the bonds that held my hands tied to my back, withered away
The Dark incarnation
the decision
The female aspect of Erica
the final Universe
the First Engineer
The first Universe
the guild hall
the immortal admirals
the next Universe
THE RULE
the term God
the twelve self appointed Guardians of Light
there was only one at the beginning of it all
this part of Universe
to its rightful glory."
traitor Mel
Traitors, chapter
Translocator weapons
Ultronit
Union
Union officer
Union officer
was asked to sleep
watery green liquid
who could hold back her tears
Ad blocker interference detected!
Wikia is a free-to-use site that makes money from advertising. We have a modified experience for viewers using ad blockers

Wikia is not accessible if you've made further modifications. Remove the custom ad blocker rule(s) and the page will load as expected.