Just before the Terran ascent a group called the
Viking Movement
started by a vivid Viking Reenactment fan,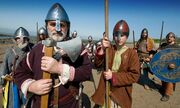 Lars Erikson
on Earth in the North European region of Norway. He and his group lamented the decay of human values in the face of technology. That humans lost the knowledge of fire, home and hearth. The group rejected Christianity and claimed it was a religion forced upon them.
The Viking Movement was only one of several similar groups and after the Ascent they were offered to settle a world of their own.
Ad blocker interference detected!
Wikia is a free-to-use site that makes money from advertising. We have a modified experience for viewers using ad blockers

Wikia is not accessible if you've made further modifications. Remove the custom ad blocker rule(s) and the page will load as expected.