Wilto is the leader of a family clan / tribe of
Cro Magnon
(Homo sapiens) sharing the same area as
Bopho's tribe
.
Bopho
calls Wilto's tribe the
Naked tribe
, not because they do not wear furs and pelts but because they are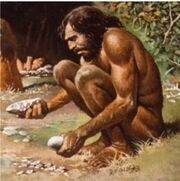 much less hairy and overall smaller.
Wilto and Bopho become best friends share discoveries and inventions, clan language and tie their clans together with other forms of cooperation such as communal hunting and fishing. Wilto is saved by Bopho from being taken into slavery by the Anuna . In return for this deed Wilto accompanies Bopho as he goes on to the quest to bring the spear that killed the Walking Spirit to the Giant of the Earth . They both end up fighting the Anuna under guidance of the Guardian . While the Guardian has to make sureNeanderthal man will not survive, he wants to nurture Wilto's tribe and makes Wilto immortal just as he does with Bopho, but Wilto refuses and he and his tribe join Bopho as they go to their new world in exile. Wilto, while as immortal as Bopho, is killed in the first decade on their new world during a hunting accident. Bopho kept the memory of Wilto alive and named the new world after his friend. (For further information see Planet Wilto )
Ad blocker interference detected!
Wikia is a free-to-use site that makes money from advertising. We have a modified experience for viewers using ad blockers

Wikia is not accessible if you've made further modifications. Remove the custom ad blocker rule(s) and the page will load as expected.